Recovering a historical accessory
By Wang Qian | China Daily | Updated: 2023-03-18 09:21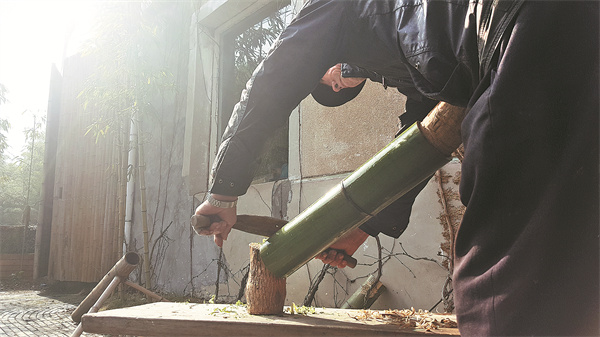 A modern touch
While sticking to the age-old techniques, Liu Weixue has made creative changes to find a balance between the craft and contemporary life.
As a designer himself, Liu Weixue developed the color palette for his umbrellas. In 2016, he launched a series called "Chun", and decorated them in plain colors. There are 10 colors, including gray blue, grass green, vermilion, earth yellow, cloud white and black.
As young people look to express their individuality through accessories, Liu Weixue invites artists to design patterns which are not only derived from traditional culture, but also cartoon characters. He has also collaborated with fashion brands to tap into the guochao trend, which features fashionable designs mixed with elements from traditional culture.
Inspired by the ancient Chinese myths featured in Shanhaijing, or "The Classic of Mountains and Seas", in 2018, Liu Weixue's studio and illustrator Zhang Fan created three umbrellas featuring mythical beasts that appear in the book.
In 2020, the studio and artist Guo Jiaxin added elements from the Archaeological Ruins of Liangzhu City in what is now Hangzhou into seven paper umbrellas.