John Holden's sharing of 4 decades' rewarding experience about China
Xinhua/chinadaily.com.cn | Updated: 2021-12-05 08:14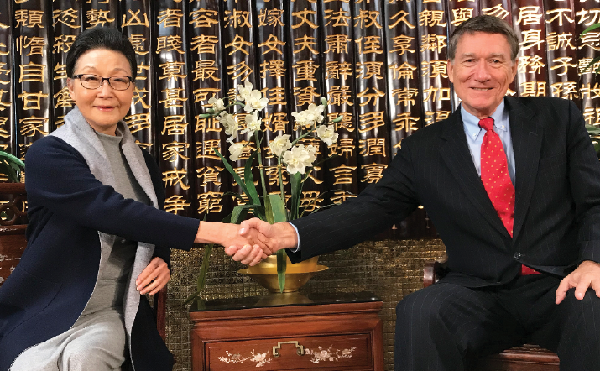 "WE HAVE TO LIVE TOGETHER ON THIS PLANET"
As the world's two largest economies, the United States and China have to manage their differences and embrace fair competition and peaceful coexistence with each other, noted Holden.
"The world is really not a very big place. We have to live together on this planet. We need to create opportunities for people to live better lives. And the US and China have their own responsibilities to their own people, but also to the world community," he said.
The two countries have to "figure out how to manage a very large portfolio of complicated issues" as "a lot of things have changed profoundly" over the 50 years since Henry Kissinger's visit to China in 1971, said Holden.
"This relationship is going to be difficult for a while. I don't know how long. What I'm hopeful for is that we gradually began to develop more areas of cooperation, we find a middle ground on some of these things; where we're not going to agree, we simply need to do a better job of communicating in a straightforward and productive way," he said.
It's "really essential" that "there has to be reliable communications" between the two countries on a diplomatic level as accurate knowledge and understanding lie at the heart of all successful foreign policy, he added.
A healthy and stable China-US relationship serves the interests of both sides and the world as a whole, and the two countries are obliged to work out how to accommodate one another, he said.
"We need to make sure above all costs that we avoid a conflict, a real conflict. We have to maintain peace. That's super important. And we need to reassure each other about that," said Holden.
"The second thing we need to do is to make sure that the trading and economic relationship is as fair as it can be," he said. "On the global commons, like climate change, we should be working as hard as we can."
Moreover, educational exchanges between the two sides have enormous roles to play in strengthening the foundations of bilateral ties and nurturing the next generation of cultural ambassadors, said Holden, who most recently served as the president and CEO of the US-China Strong Foundation.