Jade carvings echo through history
By Fang Aiqing/Wang Kaihao | China Daily | Updated: 2022-08-04 08:22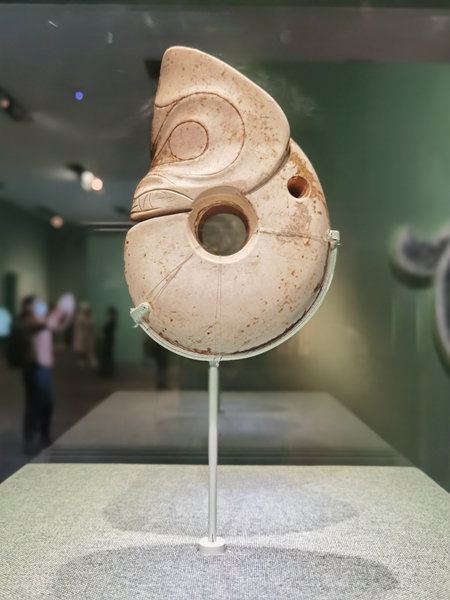 The Niuheliang site is pivotal for studies of the Hongshan Culture, a key Neolithic culture in China that spread to parts of today's Inner Mongolia autonomous region, as well as Liaoning and Hebei provinces.
A new round of excavations was launched in 2020 and, last year, archaeologists discovered a symmetrical stone platform on the mountain, well-equipped drainage facilities and more relics used in ritual activities.
The man-made stone platform stretches southward and encloses the site of the goddess temple. Ramps, symmetrical, water-retaining, curved stone walls and drainage ditches were also discovered opposite the temple, all of which are the earliest relics of their kind ever unearthed in China.
As a result, the focus of this year's work is to confirm whether or not the goddess temple was part of a larger architectural complex and to further explore the ritual system, says Jia Xiaobing, a researcher with the Institute of Archaeology at the Chinese Academy of Social Sciences, and the person in charge of the ongoing excavation.
"It might be a breakthrough to understand the social nature of the Hongshan Culture," he says.
So far, archaeologists have discovered nine stone platforms covering an area of over 60,000 square meters. As Jia speculated, there might have been constructions for performing different functions on these well-designed platforms. On the highest point, there might have even been a "palace", the splendor of which would surpass that of the goddess temple.
"The overall design of such a large-scale construction project has shown the ability to mobilize and organize in Hongshan society," Jia says.
Jia is now leading a 15-year archaeological program, a part of which includes the Niuheliang site. In the near future, they will work to figure out the structure, connection and functions of the stone platforms, further excavate the goddess temple, and finally, extend their research work to related settlements and the exploration of areas nearby.