Lead star of Kunqu Opera
By Chen Nan | China Daily | Updated: 2022-08-17 07:49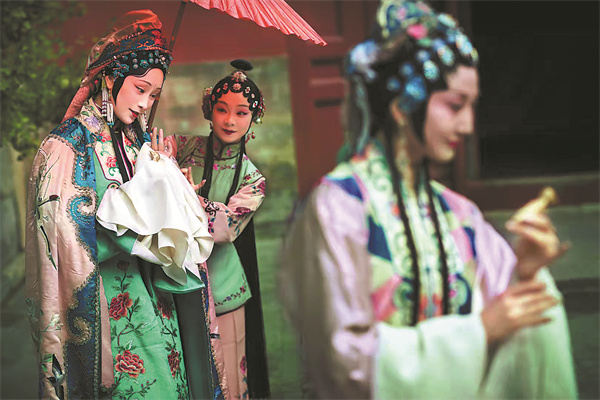 Now, at 36, she is one of the leading actresses of Northern Kunqu Opera Theater and gives nearly 100 performances a year. She is busy preparing for her upcoming role in Escorting Jingniang Home, a classic Kunqu production, first staged by the theater in 1960 and restaged several times.
Shao plays Jingniang, a young woman kidnapped by a group of bandits and rescued by Zhao Kuangyin, the founding emperor of the Song Dynasty (960-1279).Zhao, a righteous young man before he became an emperor, escorted Jingniang hundreds of kilometers until she was safely home. Shao says the story is adapted from folklore about the honesty, integrity and courage of Zhao.
Kunqu Opera, like many traditional Chinese operas, is passed down from one generation to another through singing demonstrations. It takes years to master basic skills, only after which performers can try and build their own styles.
Ten years ago, Shao learned to sing some of the most famous arias of Escorting Jingniang Home from veteran Kunqu actress Hu Jinfang. "My character in the production has to sing several arias. I still recall my lessons and how I practiced the same lines over and over again," she says.
The new version of the play is expansive in style. It is a full two-hour Kunqu Opera piece against the original one hour. The plot has been fleshed out for the purpose, making the performance much more challenging than before, she adds.