A time to celebrate tradition
By Zhang Lei | China Daily | Updated: 2023-01-05 07:34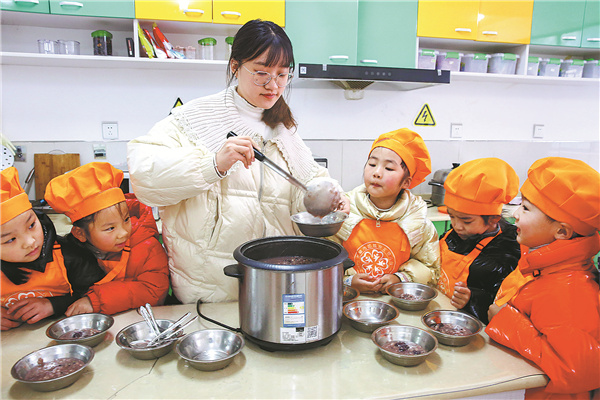 Plum tops the chart in China as a popular flower for its lofty and unyielding character. It is listed as one of the "four gentlemen" along with orchid, bamboo and chrysanthemum, and one of the "three friends of severe cold" along with pine and bamboo.
Many regions in the north during xiaohan are ideal for anyone who would like to swish around through the snow and ice.
"At this time, ice rinks in Beijing's Beihai Park, Shichahai scenic area and other places are all open," says folklore expert Gao Wei. "Especially at night, it is more beautiful than during the day. The lights in the ice rink are bright, reflecting the white surface of ice. The White Pagoda in Beihai Park, from an era when entertainment was scarce, is today a nostalgic winter memory for many who grew up in Beijing."
The success of the 2022 Winter Olympics in China has spawned a new wave of popularity in ice and snow sports.
"This is a manifestation of the change of customs. Folk customs are not static. They evolve with the changes in lifestyles," Gao says.
Xiaohan also precedes the Chinese New Year. There is a folk proverb that goes, "Prepare for the New Year during Minor Cold and Major Cold".
After xiaohan, the atmosphere of the Lunar New Year picks up with families. People begin to write Spring Festival couplets, use the paper-cutting craft to make window decorations, clean the house, go to the market to buy firecrackers, incense and lanterns.