A time to celebrate tradition
By Zhang Lei | China Daily | Updated: 2023-01-05 07:34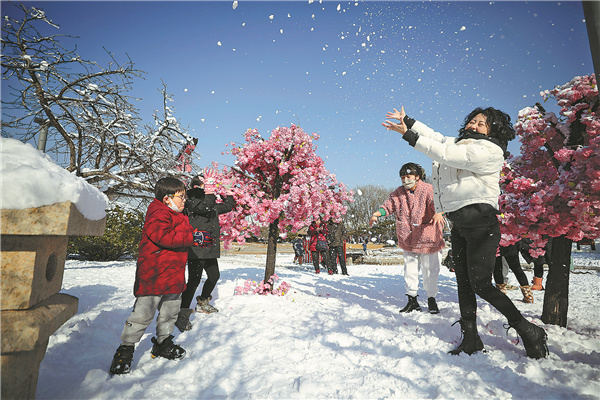 Xiaohan falls on the 12th month of the lunar calendar, and often around laba, the eighth day of the 12th month. In Beijing, laba is generally considered to be the beginning of the Chinese New Year celebrations. Virtually every household in the city eats porridge on that day. Laba porridge is made of ingredients such as glutinous rice, sesame, barley rice, longan, red dates, shiitake mushrooms and lotus seeds. This tradition of making the porridge can be traced back to the Song Dynasty, extolling the significance of diligence and thrift.
The festival is also a grand occasion in Buddhism. Before Sakyamuni became enlightened, he practiced asceticism for many years, and found that asceticism was not the way to ultimate liberation, so he decided to give it up. At that time, he met a shepherdess who offered him porridge. His physical strength recovered, and he sat under a tree to meditate and became enlightened on the eighth day of the 12 month in the lunar calendar.
To commemorate this event, Buddhists hold rituals on the day, offering rice and fruit porridge to the Buddha and the poor.
The twelfth lunar month is also called layue, or preserved month.
"The word la itself refers to various preserved foods that are used for sacrifices. In nature, one cycle of four seasons ends and another cycle is about to begin. At this time, people offer sacrifices to heaven and earth to acquire psychological satisfaction and joy. That's related to the Chinese saying 'be happy during auspicious events,'" Gao says.