Exhibition highlights early design innovation
By Wang Linyan | CHINA DAILY | Updated: 2023-05-26 07:36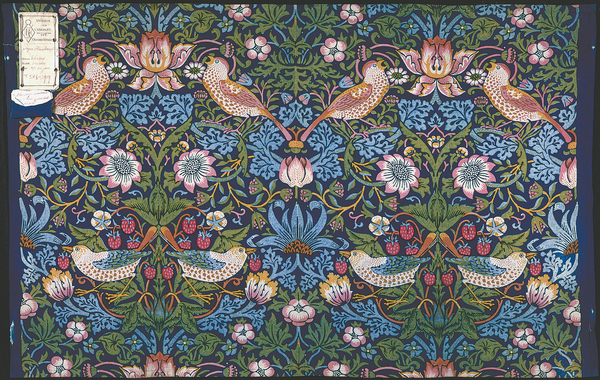 Personal experience
Morris' personal experience shaped his views of machines, craftsmanship and aesthetics.
Born into a well-to-do family, Morris was able to spend a lot of his childhood learning and he loved nature. When he went to Oxford to study, he developed a great interest in the literature and romance of the past.
In 1851, when he was 17, the Great Exhibition opened in London. He refused to go to the exhibition citing grounds of taste.
He had a house built for himself and his wife Jane, an embroiderer, when they got married. When they were furnishing the house, they just couldn't find things that they liked. This was one of the reasons why he decided to try and create things himself, founding his own company that would produce decorations and make things as he wanted them to be made.
And that's where his journey started.
The birth of the Arts and Crafts movement signaled the beginning of a change in the value society placed on how things were made, according to an introduction on the V&A Museum website.
"The main characteristics of the movement are the focus on good design and skilled craftsmanship, whether that was one of handmade objects, of which there are many in the exhibition, or those made with the help of some kind of form of mechanization," explains Donnelly.
A good example of the movement is the buckle and belt tag by Henry Wilson (1864-1934), a beautiful piece of silver set with semiprecious stones, which has been taken especially out of the Jewellery Gallery of the V&A Museum for the China tour.
Wilson wanted to use polished stones, not cut stones, as was the fashion at the time, as the former are a bit smoother and "maintained more of the magical quality".
Donnelly says that Wilson is a good example of an Arts and Crafts designer, as he worked in different fields as an architect, sculptor, metalworker and jeweler, and he also taught people in his studio.
There's a design for a dish by English potter and tile designer William de Morgan (1839-1917) called Sea Birds' Island, which shows birds perched on a raft with a whale in the water. The paper has got little holes in it. That was part of the technique of transferring the design onto the ceramic before it was decorated. It's a good example because it shows a combination of design and craft, Donnelly continues.
In addition to commissioning designs, the manufacturers have also played a key part in creating arts and crafts, and adapting designs in the movement, which is not just about handmade objects, he adds.